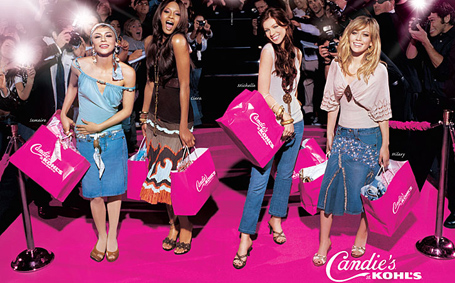 The spring television and print advertising campaign for Candie's will feature four celebrities: Singer, actress, megastar Hilary Duff; Grammy nominee Ciara; and actresses Michelle Trachtenberg and Samaire Armstrong. This is the first time the brand has enlisted four stars to appear in an advertising campaign. Past Candie's spokespeople include Destiny's Child and Kelly Clarkson.
Hilary, Ciara, Michelle, and Samaire are all unique in their talent as well as their style. Mixing the four girls in an advertising campaign was the ideal way to showcase all of Candie's product categories which are available nationwide exclusively at Kohl's Department Stores.
Iconix CEO Neil Cole stated: "Bringing together the hottest young stars of Hollywood in one ad campaign is an excellent way speak to young women, who may identify with one or more of the stars. Kohl's has embraced our brand and we are thrilled with the response to Candie's at Kohl's."